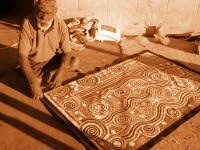 Collections:
Musee du Quai Branly, Paris, France
Araluen Art & Cultural Centre, Alice Springs
Art Gallery of New South Wales, Sydney
Art Gallery of Western Australia, Perth
Australian National Gallery, Canberra
Australian Museum, Sydney
Art Gallery of South Australia
Art Gallery of Western Australia, Perth
Art Gallery and Museums, Glasgow, Scotland
Donald Kahn, U.S.A.
Flinders University Art Collection, South Australia
Gordon Darling Foundation, Canberra
Queensland University of Technology Art Museum, Brisbane
Kelton Foundation, California, U.S.A.
Museum & Art Gallery of the Northern Territory, Darwin
National Gallery of Victoria, Melbourne
Powerhouse Museum, Sydney
Seatle Art Museum, U.S.A.
South Australian Museum, Adelaide
The Christensen Fund
Prix:
2001 Telstra, National Aboriginal & Torres Strait Islander Art Awards, Works on Paper
Biographie
Paddy Sims Japaljarri  (1917-2010) est le grand peintre et l'un des initiés les plus influents de Yuendumu. Il est marié à Bessie Sims Nakamarra, également artiste reconnue et initiée importante.
Il est à l'origine du mouvement pictural à Yuendumu mais doit sa renommée à son voyage à paris en 1989 pour la célèbre exposition « Les Magiciens de la Terre » au centre Georges Pompidou.
En 2000 il grave avec Paddy Stewart 30 plaques dont on va tirer des gravures de petits formats. C'est avec ce travail très particulier que les deux hommes remportent le prix dans la catégorie « meilleure œuvre sur papier » lors du Testra Award. Ses thèmes sont variés, preuve de ses larges connaissances.
Thèmes: 
Yiwarra (Milky Way), Ngarlkirdi/Warna (Witchetty Grub/Snake), Pirntina (Woma Python), Liwirringki (Burrowing Skink), Ngaru (Bush Tomato), Walpa (Wind ), Jungunpa (Marsupial Mouse), Mala (Hare Wallaby), Wakulyarri (Banded Rock Wallaby), Warlu (Fire),Witi (Ceremonial pole), Ngalyipi (Snake vine)