THALI – Art Contemporain Aborigène/Contemporary Aboriginal Art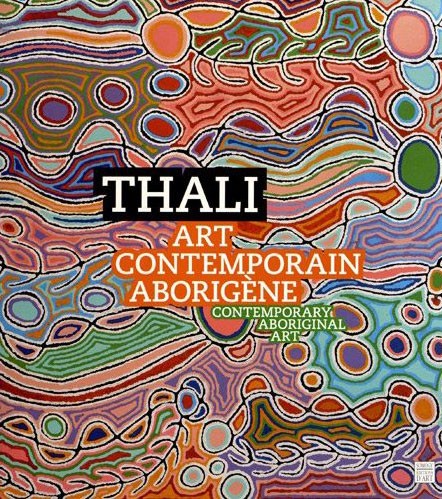 192 pages, 130 illustrations – 38 € – Relié sous jaquette
Somogy éditions d'Art – Bilingue Français-Anglais – Paru le 10 octobre 2012.
Depuis des milliers d'années, les Aborigènes d'Australie utilisent des signes dans un contexte cérémoniel pour transmettre une trace de leur histoire et de leur culture. Depuis quelques décennies seulement, ils transposent ces mêmes symboles sur des supports durables et, ce faisant, ils ont donné naissance à un véritable mouvement pictural, internationalement reconnu. Dans les œuvres des artistes du désert central, du Kimberley et de la Terre d'Arnhem, transparaît un lien ininterrompu, fruit des connaissances tribales immenses mais aussi d'une réflexion personnelle, d'une recherche artistique.
For thousands of years, the Aborigines of Australia have used signs in their sacred ceremonies as a means to express their history and culture. For a few decades only, they have transposed these same symbols onto durable supports and, in so doing, have given rise to an internationally recognised pictorial movement. The paintings of the artists of the Central Desert, the Kimberley and Arnhem's Land maintain an unbroken link with millenary Aboriginal culture, combining an immense accumulation of tribal knowledge with personal artistic research and reflection.